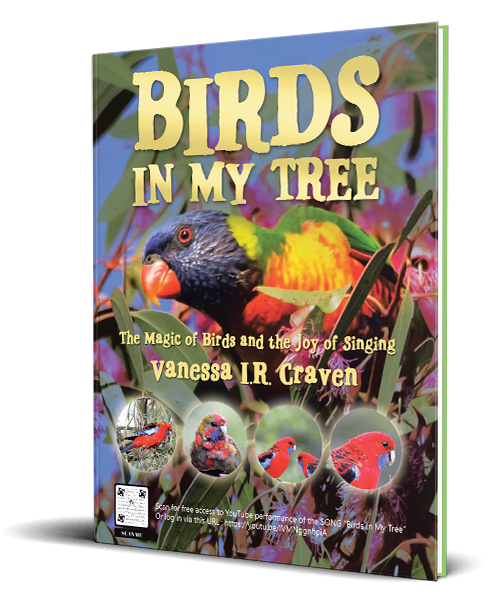 Book Overview
BIRDS IN MY TREE
A WISE OWL I SEE,
WITH BIG ROUND EYES
JUST HOOTING AT ME.
I WISH I COULD FLY
AND KEEP YOU COMPANY.
CHEEKY BIRDS AND FREAKY BIRDS,
YEAH BIRDS IN MY TREE,
UP IN MY TREE,
YEAH, BIRDS IN MY TR-EE-EE-EE-E.
When COVID- 19 hit the world, everything looked bleak. Lockdowns and isolation plagued humans. During that time, the birds in my garden and in the bush kept me sane and entertained. I found myself keeping in touch with nature more than ever before. I looked forward every day to seeing the antics of the birds and their behavior with one another and myself. They came to know me better and it was a wonderfully special feeling to be trusted by them.
Vanessa I. R. Craven
Vanessa I. R. Craven is a poet, author, artist and singer songwriter who lives in Daylesford, Australia, having made a 'tree change' from Melbourne where she worked as a Health Sciences Librarian. She hales from Mussoorie, a hill-station in Northern India in the Himalaya Mountains, where she was born and lived for 25 years. Her father was Welsh and her mother North Indian, and both were teachers. She owes much to her mother who encouraged her musicality in her early years by walking four km with her to her guitar lessons. In addition to this, her mother always encouraged her to write the annual Christmas letter to family and friends. This played an important part in developing her writing skills in those formative years. Vanessa followed her father's example and developed a love of photography, art, literature and nature. She accompanied him on many camping, fishing, hunting and photography trips. She displays her art and photography in various galleries, and plays music in various settings and festivals. She has written many original songs, and won several awards. Lullaby for Monty and Forbidden Dance both won awards in the Australian Songwriters Association Contests in 2013 and 2016 respectively. She has recorded three albums and continues to play music with her bands. Her music can be found on her website www.acousticsessions.com.au and online streaming platforms. Vanessa has published short stories and poetry with the Moorabool Writers Craft. This is her first self-published book.